Murray's studio is currently housed at The Millworks, a 32-artist collective in a refurbished historic mill in midtown Harrisburg, with a brewery, restaurant and galleries.
Paintings from 2015 to present
Paintings, assemblages and sketches from 1997 to present.
Murray's art was featured on the October 2018 cover of The Burg.
Zany collections of whimsical children's poetry and illustrations, and the oddest guide to Martha's Vineyard on the planet.
Limited-edition, hand-pulled linocut prints for sale.
Painter, poet, author, illustrator
Born in Chicago, Illinois in 1960, Murray studied painting at Swarthmore College and formal portraiture with the late New Hampshire watercolorist, Phoebe Flory.
In the late 80s, Murray began painting professionally in Santa Cruz, California and quickly became represented in one-man and collective shows from Carmel to San Francisco. His earliest works were heavily influenced by Basquiat and Chagall and were largely figurative. Favorite themes included Greek mythology and scenes from Shakespeare plays.
From the 90s through 2010, his works were represented exclusively by Treehouse Studio Galleries in West Tisbury on Martha's Vineyard. Both a native and frequent visitor of the island, Murray's annual one-man shows displayed the emergence of a bold and idiosyncratic style of expressionism, with a gradual drift toward more stylized composition. While some of his work during this time was influenced by the rural countryside and rich seascapes near West Tisbury, his one-man show "Painted Poems" in 2009 inaugurated a new approach, layering fragments of words and phrases into colorful abstract fields.
In 2006, Murray wrote and illustrated his first book of children's poetry, Foolscap and Folderol; followed by four other titles: Dachshunds and Doggerel, Evangeline and Eku and Cat and Caboodle. In 2013, he published his first adult work: An Insider's Guide to Martha's Vineyard.
Murray's paintings hang in private collections from London to Sedona. Now living in Central Pennsylvania, he continues to produce evocative works in acrylic and mixed media, with a style that has been reviewed as both "feverishly colorful" and "daring modern fauvism."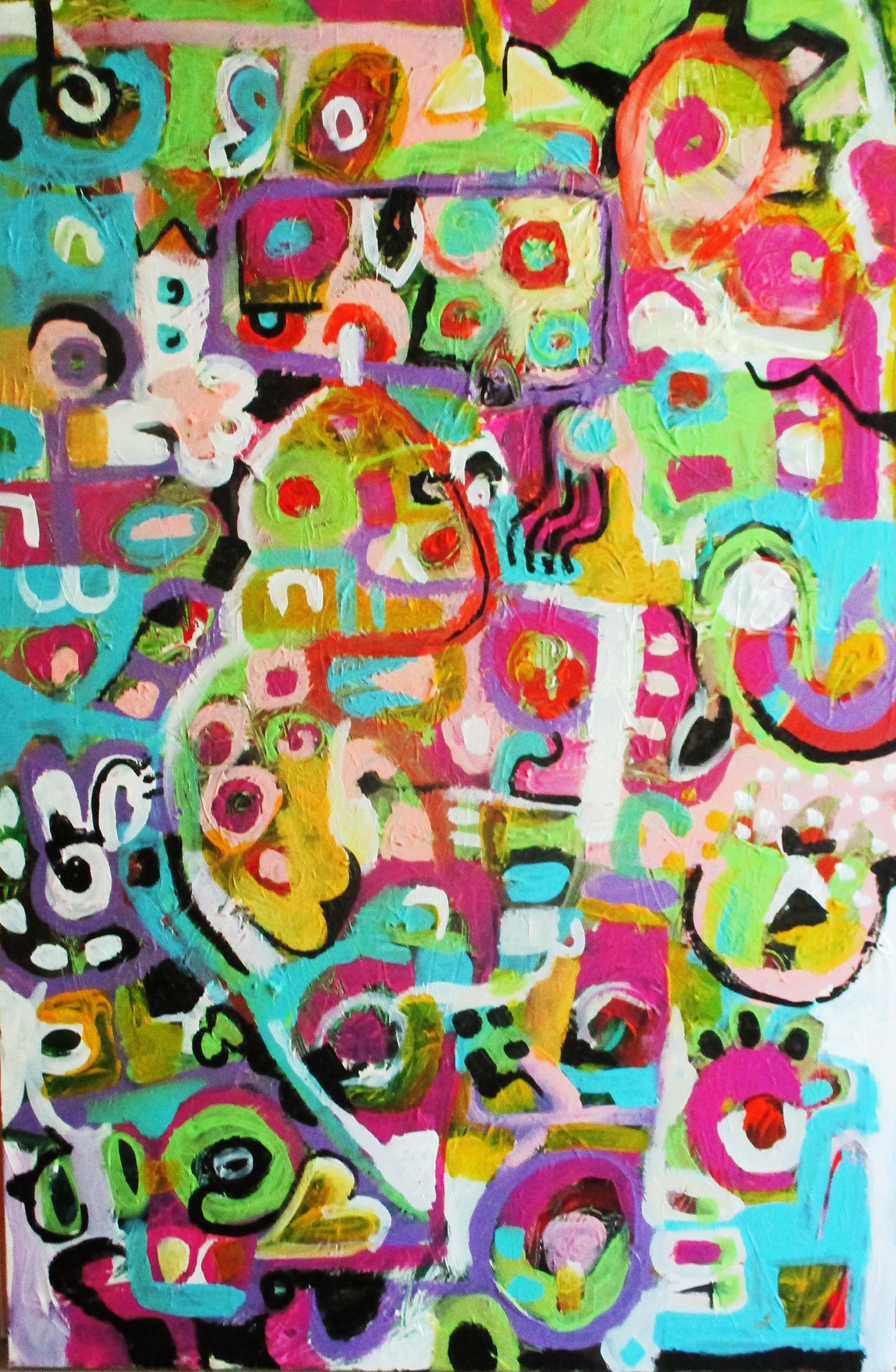 "Hanky Pinky"
2017, Acrylic, 20″x30″